Insurance Claims
Hawkins Collision Centers are Direct Repair Partners. We are an authorized repair facility for Erie, Esurance, Geico, Hartford, Nationwide, Ohio Casualty, Penn National, and Travelers. If you do not see your insurance on this list give us a call. We have probably done business with them and can handle your repair.
Insurance Claims steps
Report your accident to your carrier. Your agent will collect the information regarding the claim and set up a claim file for you. They will give you a claim number to reference your file by and inform you how much your deductible is. Once your claim file is set up, Hawkins Collision Centers will work directly with your insurance agent, ensuring your claim is handled efficiently and that the process is seamless.
Multiple estimates are not necessary. If insured, you are only responsible for your deductible. The most important thing is for you to get your vehicle repaired. All quality collision repair shops have pre-determined prices with the insurance companies.
Hawkins Collision Centers will handle processing the claim and communicating with the claims office for you. Since we are electronically linked to your insurance company's computer system we are able to send the estimate directly to their claims office. Your insurance company will review our estimate and written approval will be emailed to us, usually within 48 hours. This will allow us to begin repairs on your vehicle, with your consent, as soon as we receive approval.
If additional damage is found on your vehicle after repairs have begun you need not worry. A claims office re-inspector provides hands on claims management by visiting our facilities once a week. If additional damage is found on your vehicle, Hawkins will bill these costs directly to your insurance company, ensuring you are never put in a situation where you owe more than your deductible.
A check for the amount of your deductible will be all that is needed to pick up your repaired vehicle. A Direction to Pay will be signed, allowing Hawkins Collision Centers to bill your insurance company directly for the portion of the repair bill that they are responsible for.
Hawkins Collision Centers wants your experience to be as hassle free as possible. That's our promise.
Over the next few months we will be showing before and after pics in this location.  Stay tuned for more info.
Visit our dealership!
Be sure to visit our dealership, Hawkins Chevrolet, for the best prices around on new and used Chevys.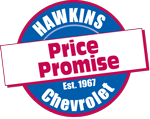 Hours
DANVILLE
| | |
| --- | --- |
| Estimates: | 8:00 11:30am |
| | 1:00 4:30pm |
| Pickup: | 8:00am 4:30pm |
SUNBURY
| | |
| --- | --- |
| Estimates: | 8:00am 4:00pm |
| Pickup: | 8:00am 4:30pm |
Other pickup arrangements can be made on a case by case basis at both locations.