Hawkins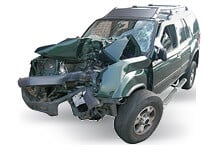 Collision Centers are located in Danville and Sunbury. Both facilities are state-of-the-art, with computer paint matching and Modern Down Draft Paint Booths with bake cycle for a like factory finish. We can perform the services to restore your Domestic or Foreign vehicle's safety, comfort, and performance. Here's where you can schedule an appointment, and learn what to expect from our body center experts.
Being involved in an auto accident is usually an unpleasant experience, but getting your car repaired and looking new again does not have to be. At Hawkins Collision Centers, we understand the inconvenience that auto repair can bring into your life. That's why we have caring and skilled professionals with technical expertise in our auto repair shop. We respect your situation and strive to repair your vehicle quickly, the first time, on time, every time. Our trained auto repair specialists are committed to delivering your repaired vehicle to you as good as new and as soon as possible.
Providing 100% customer satisfaction is our number one goal. We can meet your service needs 24-hours-a-day, 365-days-a-year. Whether it's during normal business hours or after hours, we can assist with towing, rental vehicles and repair arrangements. We're just a phone call away 570-275-6102 in Danville and 570-988-6200 in Sunbury.